WHY CONSULATIO?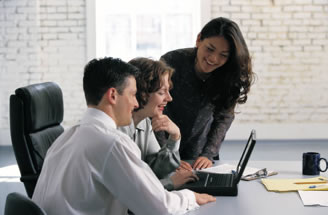 Marketing Experience
Consulatio™ brings together decades of marketing and public relations experience. We have worked with nearly every medium, from direct mail, print, radio and TV, to email campaigns, online advertising and search engine marketing.
Consulatio team members have developed and managed marketing and PR campaigns for both online and brick and mortar retailers, B2B wholesalers, service industries such as real estate and law firms, non-profit organizations, political candidates and high-tech ventures.
Our seasoned professionals now focus exclusively on creating and managing the most effective search engine marketing, search engine optimization and online reputation management campaigns possible.
Technical Expertise
The Consulatio team has deep technical expertise in all aspects of the web and Internet, not to mention the back-end systems that run them.
We believe it is important to fully understand how things work so we can better leverage our knowledge and skills for our clients.
While others just read the trade articles about Google, for example, we read Google's patents. We work closely with web developers and speak the same language — we've built many sites ourselves. We understand the complexities and how to avoid pitfalls that make a site unfriendly to search engines and people who visit it.
Consulatio brings to the table a depth of knowledge and understanding about the entire process. We blend our creative and technical skills to build a powerful, effective solution.
Creative Excellence
We have mastered the science of keyword research and user behavior, and honed the art of web page optimization to deliver unparalleled results for our clients.
Good research drives the process and delivers results. Effective optimization requires a unique talent, and Consulatio has developed many tools and procedures for effectively optimizing web sites like yours.
Learning Your Business
In order to do the best job for our clients, we learn as much as we can about the products and services they offer.
Whether it is an international cruise line, a metropolitan law firm, a local plumbing company, a dermatologist or a tree farm, we immerse ourselves in learning what potential customers and clients are looking for.
We learn to think like your customers…how they search, what makes them click on your link and how they decide to buy.
Constant Communication
We are unique in the amount of information we compile. We provide timely reports with statistics from the search engines and your website that demonstrate the actual effectiveness of our efforts. This provides a results-oriented level of accountability.
We are proactive in suggesting changes to client sites when search engine algorithms or user behavior change. We help clients adapt quickly to changing market conditions that can affect targeted keyword phrases.
Periodic webinar sessions are scheduled with our clients to review their sites and current rankings. We regularly inform and educate our clients about the entire SEO process to ensure that they stay ahead of the curve in this constantly changing field.
Total Commitment
We carefully choose our clients just as our clients carefully choose us. We maintain the highest ethical standards and only work for a single same-industry client in each market. After all, only one client can achieve the highest ranking and only one company can be that client. We partner with our clients to achieve their marketing and SEO goals. We value long term relationships and celebrate our clients' successes.
Achieving Net Impact.™