WHY SEO?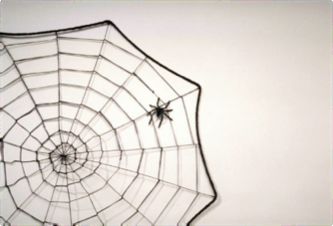 The Top Ways Websites Are Discovered
Just how do people find a new website to visit? The numbers tell the story:
| | | |
| --- | --- | --- |
| 1% | | Banner Ads |
| 1.2% | | Targeted Email |
| 1.4% | | Television Spots |
| 2.1% | | "by Accident" |
| 4.4% | | Magazine Ads |
| 20% | | Word-of-Mouth |
| 20% | | Random Surfing |
| 46% | | Search Engines |
| | | |
Be Found or Fail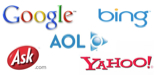 Internet search engines are now the primary way people find information, products and services.
Search engines have become the life blood for every business — no matter whether it is a traditional brick and mortar retailer, a service-based business for consumers or businesses, or an Internet-based e-commerce operation.
If a business' website is not included in a search engine index — and if that website does not appear in the first few pages of search engine results — the site may as well not exist. People who can't find a site are people who will never be a customer or client.
And during turbulent economic times, more businesses are chasing fewer customers. Who gets them wins and survives. Be found or risk failure.
What is SEO?
Search Engine Optimization (SEO) is the process of optimizing your website to appear higher in the search engine results on Google™, Yahoo®, Bing™ MSN® and others.
When your website appears near the top of the search results for relevant search queries, traffic to your website increases dramatically. Choosing the right search terms to optimize your site is essential.
It all starts with comprehensive in-depth research of your competitors and search engine user behavior. SEO research identifies the most relevant and valuable search phrases for your market space.
A complete analysis of your website architecture reveals any problems search engine spiders or robots may have properly crawling and indexing the content of your site. Detailed recommendations aid your web design team make your site search engine friendly.
Content is King
It is a fundamental rule in SEO that good content delivers good rankings.
There are several factors that determine the quality of the content on your website. Most importantly, the content must be relevant to your visitor and to the searcher you wish to attract.
The optimization process itself involves creating new content and/or wordsmithing your existing site content using the technique of semantic markup. This process incorporates the targeted keywords into your content in such a way that it is obvious to the search engines that the material is relevant and valuable to searchers.
In addition, the optimizations include carefully crafted metatags which are created specifically for search engines — this metadata is information that describes your content in a way search engines can easily understand, process and index.
Link Building
Links from reputable third-party sites to your site can improve your rankings as well. Paid directory listings and paid link campaigns are rarely as effective as naturally occurring links to your content from other sites which are complementary in content. In fact, some paid links can actually backfire and result in scoring penalties by search engines.
Organic links can also be built using blogs and user forums which not only attract search engine interest, but the interest of potential visitors as well.
Site Traffic Analytics
Tracking search engine referrals to your site and visitor behavior on your site is an important part of the SEO process to ensure good long-term results.
Visitors who arrive and leave within seconds can ultimately harm your search engine rankings since a high visitor bounce or abandonment rate can indicate poor content or presentation. Search engines will score such sites lower. A comprehensive traffic analytics system can monitor this behavior and provide additional metrics for insight into continued site improvements.
On-Going Maintenance
SEO is a process that combines good research with thoughtful implementation along with diligent maintenance.
Products and services change over time. Popular terminology, words and phrases evolve. Current events open new opportunities. And search behavior by users is constantly in flux. What was hot yesterday is not what's hot tomorrow.
Competitors will add or change optimizations on their site requiring a response on yours.
The search engines themselves are continually refining their indexing and ranking algorithms, requiring corresponding changes to your site to account for them.
Furthermore, it is important that the content on your website is updated and changed frequently. Search engines know that fresh content brings web users back to your site again and again. Therefore, new content weighs heavily in determining which web pages come up high in the search engine results.
The best and most effective SEO program is a work in progress.
Choosing an SEO Firm
Implementing effectual search engine optimization is difficult. It requires good understanding of the client's products and services, meticulous research about what search engine users are searching for, and skills to develop the site optimizations.
Be wary of solicitations offering a "free" site analysis along with promises of a cheap SEO campaign. You get what you pay for.
Some SEO firms make amazing claims that they have secret methods, a magic formula or a special relationship with Google. Some tout low-cost automated, machine-generated optimizations. P.T. Barnum would be proud.
Effective SEO campaigns are hard work, requiring total commitment by both the client and the SEO firm.
Organic SEO v. Paid Ads
While paid ads such as Google AdWords™ can be effective for some companies, the indisputable fact is that only 15% of search engine users trust and will click on a paid ad, compared with 85% who click on a natural search engine result. The bottom line is that dollar-for-dollar, SEO provides a better ROI.